"I think the biggest strength of strong people is to put people around you who are stronger in specific cases than yourself." – Jürgen Klopp
With these wise words from the gaffer, I would like to welcome you to the second part of my series on LFC's backroom staff. I will continue to take a closer look at the some of the people who work in the background, and who often get little attention despite their outstanding work that they provide every day.
Last time we learned the importance of proper nutrition thanks to Mona Nemmer — today I'd like to introduce you to the man who puts the players through their paces every day: head of fitness and conditioning, Andreas Kornmayer.
The problem with heavy metal football
Let's be completely honest — when Klopp took over at Liverpool, we quickly noticed a massive problem: the fitness levels within the squad were not conducive to fulfilling Klopp's expectations for a football game.
Early in Klopp's tenure, there were a number of injuries — many of the players simply could not sustain the performance requirements over a full 90 minutes, let alone with a very tight fixture schedule. It was a huge ask for players to recover quickly and prepare for the next game.
The players themselves were not used to covering so much territory every single game. This high-intensity football that Klopp had brought from Dortmund was foreign territory to many.
The Reds were used to a different style of play under Brendan Rodgers and overall, this high pressing, counter-attacking football — and the seemingly endless stamina it demanded — was not a standard in the Premier League.
More than just a Kloppelgänger
Everyone has certainly seen Andreas Kornmayer before. He is the one who leads the players through the warmups before each game, though many of us actually only know him as Klopp's famed doppelganger.
It's funny, sure, but there's a lot more behind the man than his resemblance to the boss, and his work deserves far more attention.
His time at Bayern Munich
So who is Andreas Kornmayer? He worked at FC Bayern München for 15 years under various managers before being recruited, along with Nemmer, to join Liverpool in 2016.
For Kornmayer, it was a new challenge and a great opportunity in his career. It showed, once again, what great pulling power Liverpool possess under Klopp, convincing one the best fitness coaches in Germany and even in the world to leave a club like FC Bayern Munich to work abroad.
As a graduate physician, he started his career working on 'talent diagnosis' with the club's U12-U15 levels, building profiles on each young player's abilities via a series of sprints, jumping, coordination, reactive and medical tests. He then worked as an assistant manager for the U17 and the Bayern Reserves before being introduced to the first team backroom staff by Louis van Gaal in 2010.
Kornmayer is very highly regarded for his work in Germany and especially at FC Bayern Munich. Striker Thomas Müller, who worked extensively under Kornmayer at the club, once said, "He transformed me from a slow snail into a speedy snail!".
Klopp has always been an admirer
When Klopp decided to bring Kornmayer to Liverpool, he knew of him professionally, but not personally. Dating back to his time at Dortmund, Klopp had always been an admirer of Kornmayer's work at FC Bayern Munich. Klopp actually credited his countryman with much of Bayern's success, especially in their treble-winning 2012/13 season.
So what is it that Klopp so admires about Kornmayer? Well, just about everything.
In an article for the club's official website, Klopp heaped praise upon his new colleague.
"First of all he's an absolute mastermind in all the things he has to do for us. He's an experienced guy who has worked together with the best teachers and the best players. Education and experience are the most important things in this job and he combines these two things in the perfect way. He fits together perfectly in our coaching team."
Klopp likes to refer to Kornmayer, aka "Korny," as the drill sergeant. "He needs to be the bad boy from time to time because the players do not like running."
Training plans
As with every other department of the backroom staff, Kornmayer does not work in isolation. He needs the input and analysis from the other departments to create personalised training plans for the players. Sure, most of the training happens together, but each player has his own fitness level and each player has to deliver a different performance on the pitch and therefore has to be trained on an individualised basis.
"The plans are not only designed by me, the whole coaching staff designed them," Kornmayer told the club. "First of all I have to get to know the players, check on them and see where they are. Then we can work with them, do the programs and progress with everybody, the whole squad."
The first thing Kornmayer introduced when he joined the team in 2016 was triple sessions to quickly improve the fitness levels. This was especially evident in preseason 2016, as he aimed to prepare the squad for their first full season under Klopp.
Noticeable improvement
I think it's very clear that Klopp's plans for Liverpool would not have worked out had he not addressed the team's fitness issues.
The way Klopp wanted his players to play and the existing conditioning levels just did not align.
As with many things, it is a process that requires patience, and it was taken the better part of a season and a half under Kornmayer for the club's fitness improvement to really show.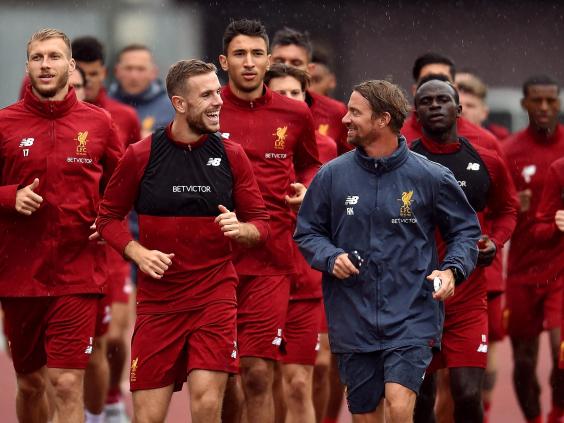 But the progress is there to be seen. Look no further than Adam Lallana's famed substitution in Klopp's debut, where he collapsed into the manager's arms after just 60 minutes. Now, by comparison, Lallana is one of many who can not only cover the exhausting distances Klopp's system demands, but often do it for a full 90 minutes.
The medical aspect
Injuries will never be completely avoidable, but the frequency of minor knocks has dropped dramatically under Kornmayer's guidance, especially during the condensed holiday fixture schedule. In Klopp's first season, Liverpool famously reached double-digit figures in terms of hamstring injuries.
Jürgen Klopp on Divock Origi's injury:

"Hamstring is the shit word of the year for me." pic.twitter.com/DQOQYYPF0E

— SPORTbible (@sportbible) December 27, 2015
Kornmayer has the added advantage of a background in medicine, so the general health aspect is not lost. He knows exactly how the players have to deal with their bodies to both improve performances and avoid unnecessary dangers and injury risks.
Another basic condition for success
Klopp has to lay the proper framework before he can apply the tactics he wants to use with his players.
We have seen from the example of Mona Nemmer that if the nutritional component is not right, nothing that follows will work either.
The next step is fitness — if the fitness is not sufficient, and if the players cannot physically do what is required of them, even the best manager will not bring success.
That is where Kornmayer comes in — his job is to properly condition the players for Klopp's demands, and he deserves huge credit for the work that's already been done.
A bit more patience
Mona Nemmer's and Andreas Kornmayer's work are two examples of the fact that the success we want at Liverpool might not come easily within one, two or three seasons — many of us are too impatient.
The pieces are in place, but the process takes time. That being said, we are on a more than good track thanks to a highly skilled background staff, who we will get to know better in the remainder of this series.